Buy Fresh Mussels Online
Sustainably sourced Cornish Mussels delivered to your door by the UK's original online fishmonger. Fresh, Live and Frozen mussels for Home Delivery.
Rope grown Cornish mussels are simply fantastic. We source ours through Fowey Sea Farms who developed the first open water farm in St Austell Bay on the south coast of Cornwall. They grow quickly in the rich waters and this gives a lovely plump, succulent sweet meat that is delicious. The mussels are harvested and then purified in tanks with ultra-violet filters to ensure they are perfect. It may seem a little daunting but actually cooking mussels is really straightforward and we have some great recipes for you to try.
So you've just ordered some tasty fresh Mussels from Fish for Thought, they've arrived in the bag at your door and you're thinking... what next? Well fear not, Chef Adam is here yet again to guide you through the process of Cleaning, Cooking and Storing your Mussels!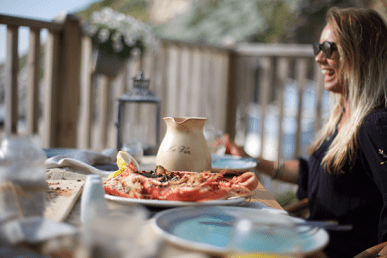 A British summer is a wonderful thing! When it's warm and the sky's blue, 80% of the population rush to gather outside with friends and family to feast alfresco. You never know how long the sun will stick around, so cram as much fun and flavour as possible into every hour with our genius barbecue hacks, guaranteed to blow your mind!
All Mussels articles
Customer reviews
Amazing Mussels
Just to say thank you for literally the best mussels ever I will definitely order from you again - brilliant service thank you
It's a seafoodie sort of day!
Outstanding! We had the smoked mackerel with poached eggs this morning for breakfast and Dinner will be mussels in white wine garlic cream and French bread. Thank you and keep up the great work!
Wedding Anniversary Celebrations!
just thought I'd drop you a quick email to let you know our order arrived on Saturday morning. I opened the box and it smelled like Cornwall, the sea.
The mussels were superb in the mariniere sauce and the lobster thermidor was fantastic!
We were treating ourselves as it is our 26th wedding anniversary tomorrow and to be honest, we prefer to buy the very best ingredients and cook ourselves than go to a restaurant and be disappointed.
We were delighted with the quality of the fish, as always.
Your Seafood is Fabulous
I have ordered many Lobsters from you and never been disappointed. This time I added mussels - I have to say they were the best mussels I have had since we lived in Nova Scotia - Indian Point were reputed to be the best in the world but yours more than matched them. Fabulous. Thanks once again, I look forward to ordering again very shortly.