Buy Fresh Lobster Online
Sustainably sourced Cornish Lobsters delivered to your door by the UK's original online fishmonger, available for next day UK delivery.
One of our specialities, Cornish lobster is recognised as the finest flavoured lobster in the world! That sounds like a bold statement but we firmly believe our lobsters are the sweetest and richest available. We source our lobsters from small inshore day boats that fish the clear blue waters of the Cornish coast, working closely with skippers like Ian of the Three Jays in Newquay. We provide the boats with our filleting waste and they land direct to us.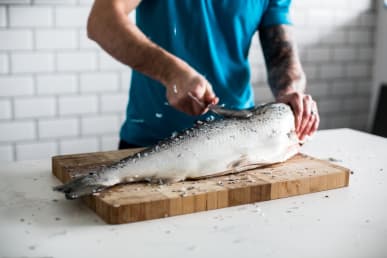 This page is reproduced by kind permission of the Seafish Industry Authority. Fish can be sold whole or cut into fillets, steaks or cutlets. Most fishmongers and supermarkets will skin, clean, bone and fillet any fish for customers. It is convenient to classify fish as white, oil-rich or shellfish.
Many people have no idea how to handle a lobster. This page is intended to be a brief guide for the uninitiated and includes instructions on cooking lobster.
We are really proud of the provenance and quality of our Cornish lobster. We have close relationships with a small number of fishermen and many of them land directly to us. Not only that we provide them with bait for their pots in the form of our fish frames and waste. This is a real win win as it eliminates the need for us to dispose of our waste and provides our fishermen with free bait.
All Lobster articles
Customer reviews
The Best Lobsters
As ever, everything arrived OK thanks and we've just eaten the lobsters (a Valentine's treat for my wife – oh all right, for me too!). The substitution of Turbot in place of the Brill I ordered, which was unavailable, was fine and much appreciated. Thanks for that. Finally, as I've said before, your new packaging is a huge improvement and makes the whole process much easier at the receiving end. I keep mentioning FFT to family and friends so I hope you get some more sales from them.
Our perfect meal
Thank you very much for the really wonderful lobsters that I found outside my door on Saturday morning.  They were delicious and a great hit with my guests in the evening!  I have never seen such big claws! We had some fun getting the hammer out to break into them.... Thank you for a perfect meal with special friends and the chance to celebrate in great, messy, style! Thank you for the freshness of the lobsters and for the very efficient delivery just on the day they were needed! Congratulations on a very good job, well delivered and well done.
Wedding Anniversary Celebrations!
just thought I'd drop you a quick email to let you know our order arrived on Saturday morning. I opened the box and it smelled like Cornwall, the sea.
The mussels were superb in the mariniere sauce and the lobster thermidor was fantastic!
We were treating ourselves as it is our 26th wedding anniversary tomorrow and to be honest, we prefer to buy the very best ingredients and cook ourselves than go to a restaurant and be disappointed.
We were delighted with the quality of the fish, as always.