Buy Hake Online
Sustainably sourced, Fresh and Frozen, Cornish Hake delivered to your door by the UK's original online fishmonger.
We source fresh hake from Cornish waters and occasionally from Scotland where it is fished responsibly. It has a soft flesh and is delicious roasted or pan-fried. Whenever its landing the fish will come from boats like the Ajax landing into Newlyn.
Since the introduction of a Hake Recovery Plan in the late 1990's, fishing for Hake was strictly controlled and now, I am delighted to say, that stocks are far larger than they have been for many years. The recovery has been so marked, that in 2015 the Cornish Hake gill net fishery was certified as sustainable by the Marine Stewardship Council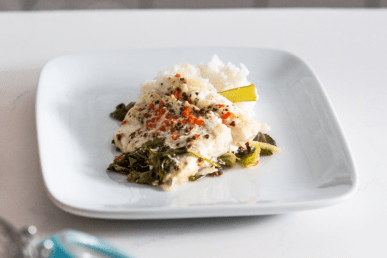 The Cornish Hake fishery is an incredible success story and an inspiring example of what can be achieved to help fisheries recover. As recently as 2006, Hake was a species that was suffering from significant over-fishing and stocks were falling - it was most definitely not sustainable and was highlighted as a species 'to avoid'.
All Hake articles
Customer reviews
I'm a first time Customer and would like to say ...
Thank you for your email, and would like to give you our feedback from a first time customer. Our order arrived as promised before mid-day yesterday. And was packaged extremely well. We enjoyed both the thai fish soup and the salmon last night. The soup was fragrant and delicious. And was a nice size for the two of us. The salmon was to die for! So fresh and tasty, and we both loved the sauce that came with it. Tonight we are trying the lobster mac n' cheese with a nice dressed salad and crusty bread. Without trying it I know based on the produce that we have already eaten; that we will love it. We both wanted to thank you for the complimentary hake that you sent us. Ive already been looking up recipe ideas and have come up with a simple butter and herb sauce to accompany it. Being a couple who would much rather eat a fish dish, than a meat dish we are very happy to have found your company, and will ordering again. I have my eye on one of your boxes to try next.