Buy Crabs Online
Sustainably sourced Crabs delivered to your door by the UK's original online fishmonger.
Cornish crab is simply delicious! We source our crab directly from small inshore boats that fish the clear blue waters around the Cornish coast and cook it here onsite. The whole crab will be cooked and cleaned for you and will weigh in at around 1 kg. If you do take it whole make sure you have the tools to deal with it - if not we have the utensils that will do just the job. We work closely with skippers like Ian of the Three Jays in Newquay, providing the boats with our filleting waste and taking direct delivery of their shellfish. This wonderful fish makes an excellent centre-piece for any seafood feast.
Total Time:

20 mins

Difficulty:

Easy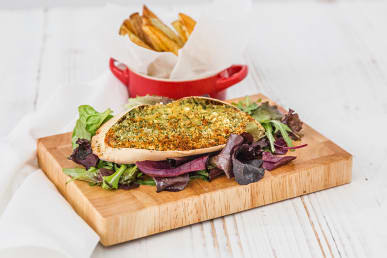 Total Time:

35 mins

Difficulty:

Easy
Total Time:

30 mins

Difficulty:

Medium
All Crab recipes
As we handle live crab on a daily basis, we tend to forget that many people have no idea how to handle them. This page is intended to be a brief guide for the uninitiated.
Cornish Brown Crab stocks are healthy, and all of the crab that we source is pot-caught, which is one of the most sustainable methods of fishing. It is both low impact and very selective, and it allows for undersized and berried females to be returned to the water unharmed.
All Crab articles
Customer reviews
Dear FFT, you have a new fan!
Thank you. Had two orders last week. One for me and the other was a birthday present for my cousin Pamela. She called me to tell me that the crab was the sweetest most succulent she had ever eaten! Phoned the next day to say the same about the kippers and  then sent pictures on Facebook to show the fish which she had cooked with  black butter!
Top marks!
You are probably aware that I am in receipt of my fish order from you. Really impressed by the way everything was beautifully packed. Looking forward to sampling the Dressed Crab and Cocktail Claws, and of course the Provencal Fish Stew. Thank you.