Crab is clawsome! Not only is it incredibly delicious, it has amazing health benefits too. We're very proud to supply Cornish Crab - which we believe to be the best in the world – that is pot-caught around the clear blue waters off the coast of Cornwall. Let's take a look at this super shellfish and why it's a cracking addition to your diet!
1. Protects your heart
Crab is very good to eat if you are looking after your heart - its nutrients are shown to reduce bad cholesterol in your blood. Crab contains chromium which helps increase the level of HDL (good cholesterol) in your body – therefore reducing the risk of heart disease and strokes. 100g of crab represents 45% of your recommended weekly intake of omega-3s, which have numerous health benefits, including supporting a healthy heart.
2. Supports the immune system
Another reason why crab meat is good for you – it's jam-packed with important nutrients including omega-3s, copper and selenium which are vital to support a strong immune system. With strong immunity, your body will be in better shape to fight off infections, free radicals and cancerous cells. Crab meat contains 30 times the amount of copper than that found in cod and over 56 times of that found in salmon and chicken!
3. Great source of protein
Absolutely essential components of muscles, bones and the body as a whole – protein in your body is constantly breaking down so it's vital to consume this nutrient to be able to rebuild muscles and tissues. As a 'complete' source of protein, crab supplies each of the 20 amino acids your body needs… so crack on!
4. Contains selenium
All shellfish are fantastic sources of selenium but it's crab which is the star of the show containing 3 times the amount found in cod and 12 times that in beef! Selenium plays a key role in the body's antioxidant defense system, preventing damage to cells. Selenium also supports healthy immunity, can prevent mental decline, protect thyroid function and may even reduce certain cancers.
5. Boosts mental activity
Eating crab meat not only has physical health benefits but can support mental alertness too. With various nutrients including omega-3s, zinc and vitamin B2 – they help support the brain by reducing inflammation, can improve cognition and concentration and even delay age-related psychological diseases.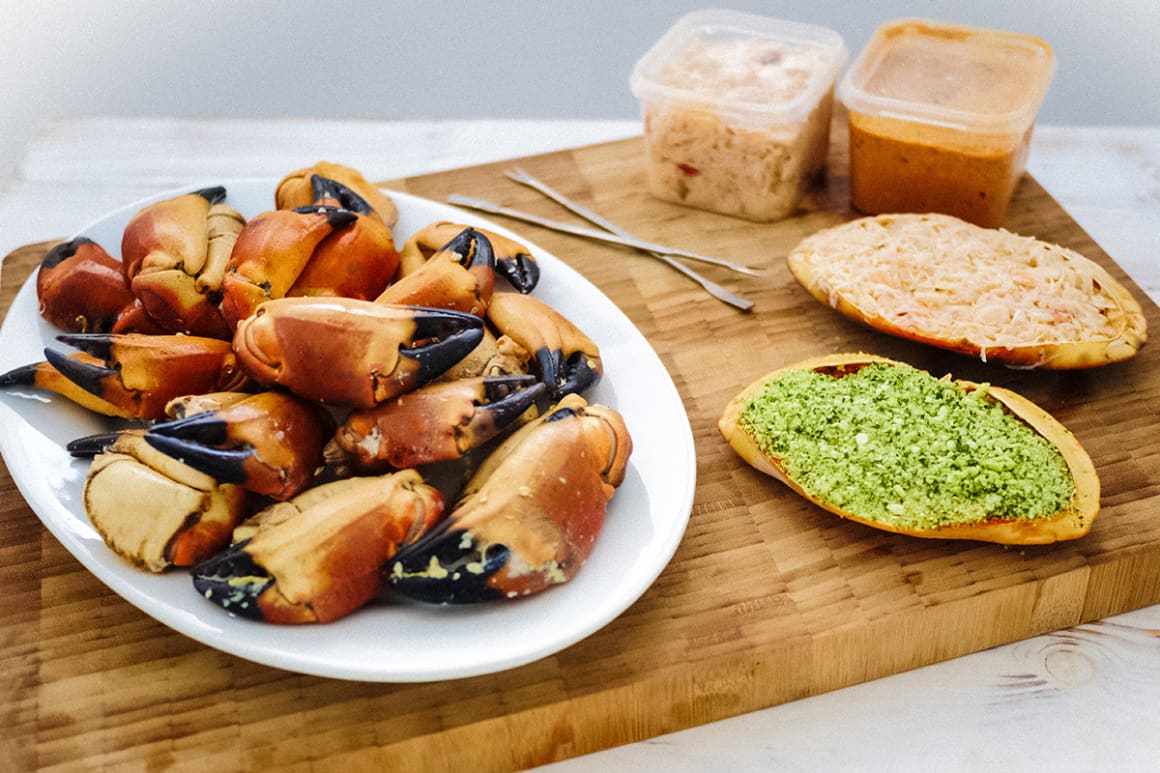 Frequently Asked Questions
What crab can you eat?
The most commonly consumed crab species in the UK is the Brown crab. Cornish Brown Crab stocks are healthy, and all of the crab that we source is pot-caught, which is one of the most sustainable methods of fishing. It is both low impact and very selective, and it allows for undersized and berried females to be returned to the water unharmed. Brown Crabs are one of the most sustainable choices of seafood you can make.
When is crab in season?
Crabs are at their best during winter but thanks to the sustainable nature of our fisheries, crab can be enjoyed all year round. Generally, they're in season from April until November.
Where shall I buy crab?
If you're looking for incredible, sustainable Cornish crab – you're in the right place! We source our crab directly from small, inshore boats, working closely with skippers including Ian of the Three Jays in Newquay. If you order whole crab, we ensure it's carefully cleaned and prepared, removing any of the bits you wouldn't want to eat.
Buy crab meat online from us.
Shall I eat crab if I'm pregnant?
The advice on the NHS website says that it's 'safe to eat shellfish during pregnancy as long as it's been thoroughly cooked.' We recommend that you read their advice carefully and/or check with your own Doctor or Midwife before eating crab – CLICK HERE.
Is crab good to eat if I'm trying to lose weight?
As crab is so low in calories but packed with protein, crab is a great choice if you're watching your weight. It obviously depends how you're cooking it (stay away from the butter!) but as it's carbohydrate-free and low in fat, it is a fantastic food choice if you're trying to lose weight – as well as being very nutritious!
Can crab meat be frozen?
Yes! If properly wrapped in heavy-duty freezer bags or airtight containers, crab can be kept in the freezer for up to three months. Freshly cooked crabs should be eaten within 3 days. See our guide on how to store live crabs.
So, go on… don't be crabby and enjoy this sensational shellfish with Fish for Thought! You can even try out these delicious crab recipes.
We're making July and August #ASummerOfSeafood. From super simple to luxuriously stylish, every week you can expect gorgeous summer recipes, incredible discounts, new products and fresh ideas from your favourite online fishmonger.