A Seafood Subscription like no other! Fresh Local Seafood that's of unrivalled quality that's totally sustainable and married with hand-crafted Chef-made Sauces. Delivered directly to your door in 100% recyclable packaging with easy to follow recipe guides. It's healthy for you and the planet…
The Seafoodie Club is our new unique seafood subscription service, providing you with a choice of superior quality Fish & Sauce Combinations curated by Fish for Thought, the Cornish Seafood experts. A match made in heaven...twice-over! The elegant artistry of our filleters meets the painstaking excellence of our in-house Chefs, marrying our Incredible range of sustainable fish and seafood with deliciously imaginative sauces, hand-crafted in our kitchen. If, like a growing number of consumers, You are increasingly concerned about the hidden implications for our planet of buying seafood from supermarkets, then fear not...when you become part Of The Seafoodie Club, you can be sure that the seafood you're eating is ethically sourced,100% sustainable and better for the environment. What's more, you can be sure that you're enjoying top quality seafood in the best way possible.
##Why did we launch The Seafoodie Club?
In plain terms, much of the seafood available in supermarkets is just not of a good enough standard for an island nation with a fantastic fishing tradition. The 'convenience-above-all' ethic of supermarkets means that guidelines governing what may be described as 'fresh' are often presented to the general public in a deliberately hazy way. The pedigree of seafood is often untraceable, fish can be up to 20 days old and the variety of seafood is confined to what is cheapest and readily available, regardless of provenance, quality and how fresh it might be when it reaches your plate. Membership of The Seafoodie Club makes it simple to eat just the right amount of seafood, as part of a well-balanced diet. Cooking and preparing seafood can be a little scary for some, but we ease the worry with expert advice, recipe guides and instructional content. We also help to reduce customers' carbon footprint with our totally sustainable packaging. With many box-subscription models, there is often a plethora of incidental packaging and this problem is exacerbated when the customer ends up receiving products like milk and pepper, which most people already have in their larders. It is also better for your carbon footprint to source your vegetables locally. We just stick to providing what we are best at - Seafood & Sauces.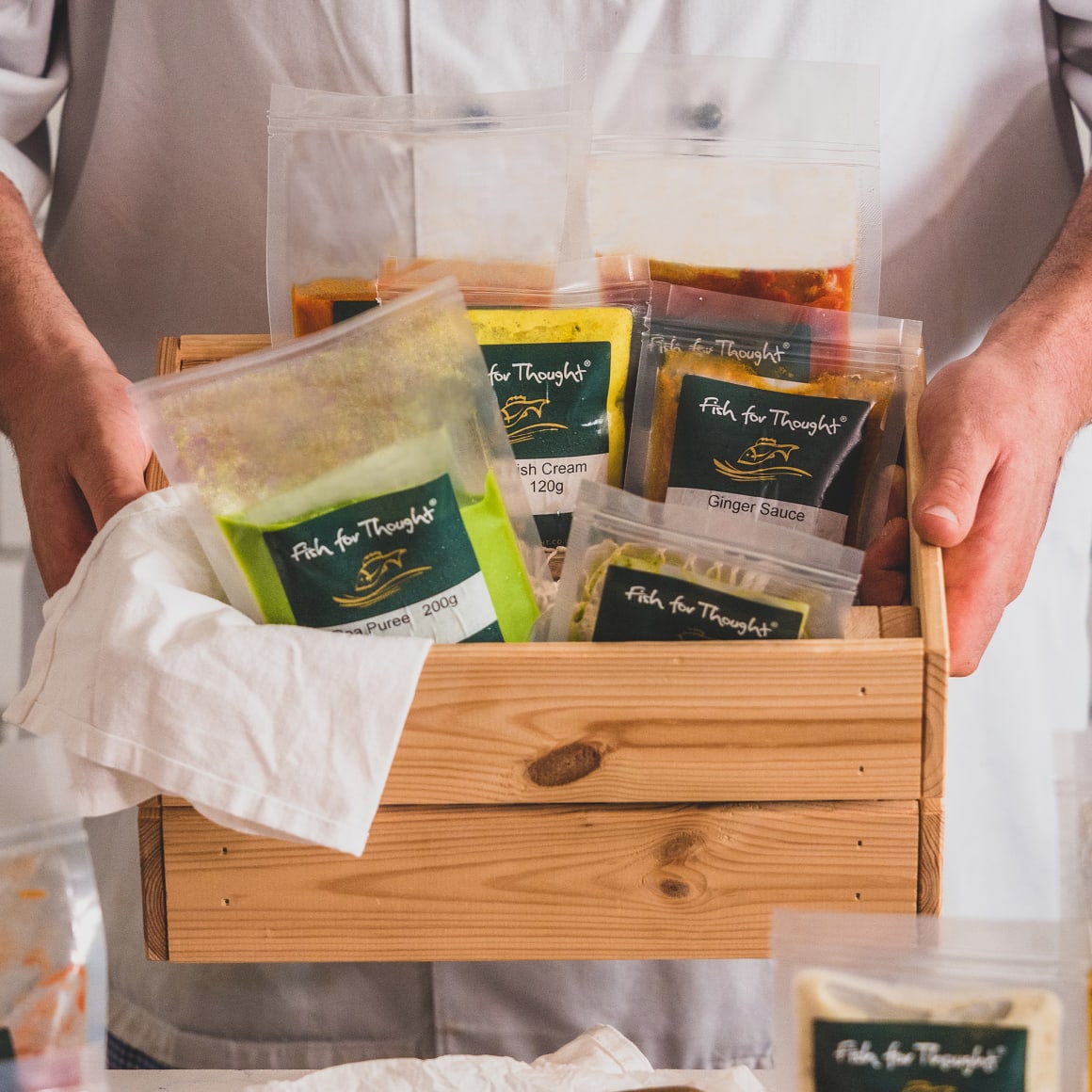 We truly believe that there is a better way. We want our customers to reap all the benefits of eating prime, fresh seafood, confident that our firmly held belief that we should leave our planet in a better state than we first came into it, ensures that all our fish is sourced ethically and with care. Seafood should be celebrated as a superfood, as it boosts productivity as well as your health. We want to change peoples' behaviour and help them incorporate seafood into their diets regularly and in the most convenient way possible.
##What are the benefits of The Seafoodie Club?
Convenience - Delivered directly to your door anywhere in (mainland) UK
Provenance - We can tell you exactly where your seafood comes from, often right down to the boat which landed it
Quality - Days fresher than you can get at any supermarket
Cost - You only pay for the good stuff, the seafood and its perfect sauce combination - no extra veg or cooking products you may already have in the cupboards
Packaging - 100% sustainable, much smaller sized than most other recipe box subscription models
Ease of use - Comes with a great recipe guide tailored to each meal signed off by our Chef – alternatively, each combination can be prepared with just the sauce and accompaniments of your choosing.
Healthy - By using our subscription service you ensure you get the recommended fish intake per week, and then some.
Sustainable - All the seafood we put on your plate is totally sustainable
Freebies - We have incentives for continuing to stay subscribed with us, rewarding you with Fish for Thought merchandise
Exclusivity - You become part of the seafood revolution, receiving exclusive updates via email, a personal welcome from Paul, our founder, Fish for Thought news and a behind the scenes look at new recipe developments from the kitchen.
Generous Portion Sizes - We have looked at other recipe box models' portion sizes and were underwhelmed, to put it mildly. Where costs allow, we will always err on the generous side.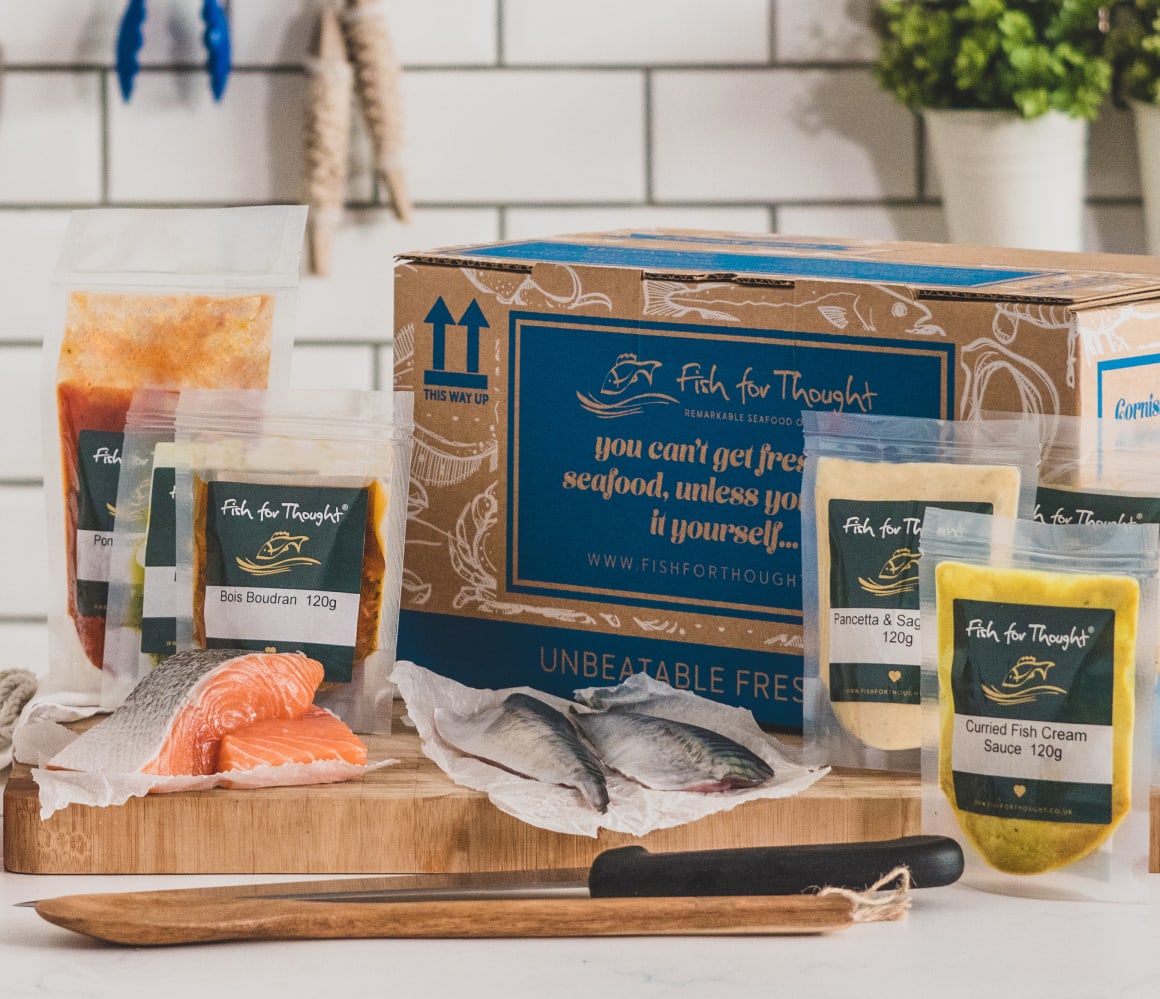 The Seafoodie Club, Established 2019.