We love salmon at Fish for Thought. Delicious, versatile and nutritionally dense, salmon has it all! Our salmon comes from the Shetland Islands, where the conditions are perfect for producing lean and fit fish that stay in peak condition, thanks to the strong, fast tidal flow of the local waters encouraging the fish to swim constantly. Here are our four favourite recipes to help you create super tasty dishes at home.
A luxurious twist on a classic combination! With delicious crispy skin from the pan-fried salmon, creamy new potatoes and tender broccoli, finish this dish off with Chef Adam's Bois Boudran dressing for tasty tomato, tarragon, and chilli kick.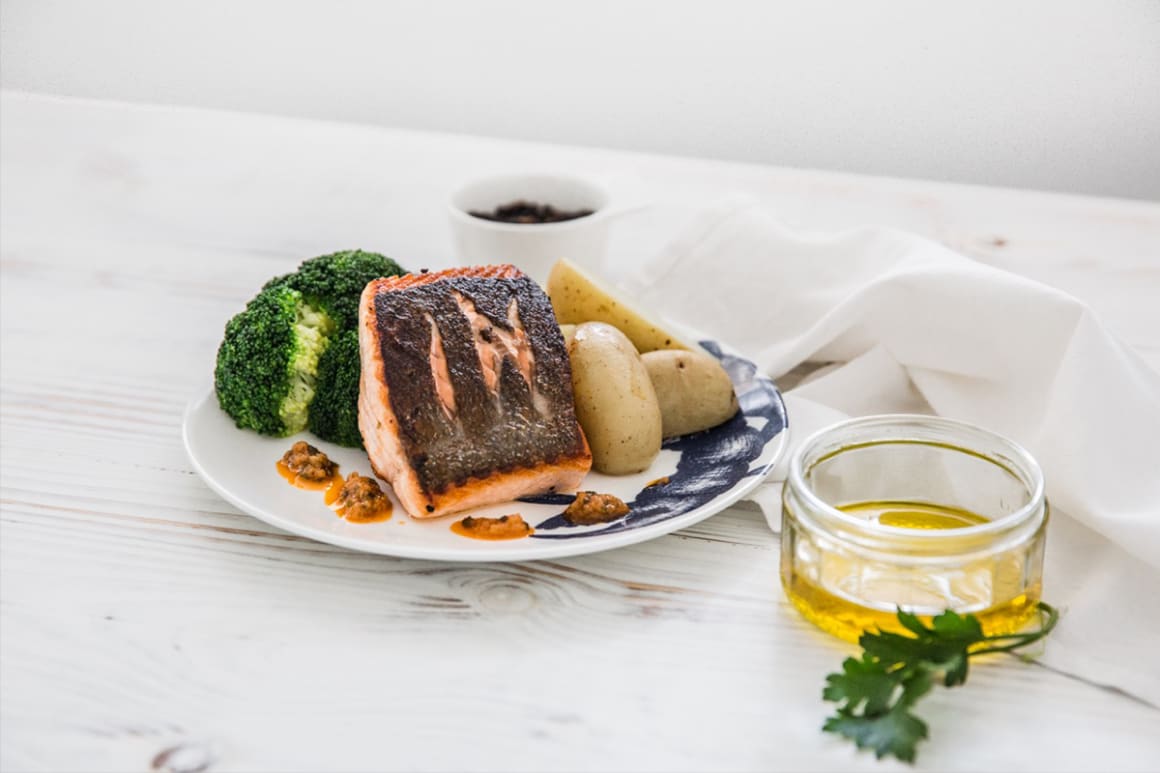 With winter on the way, this is a warming plate of hearty goodness. Roasted potatoes and cauliflower provide the perfect bed for honey-marinated salmon fillets. Team with punchy garlic and earthy kale, you have yourself a perfectly balanced dish!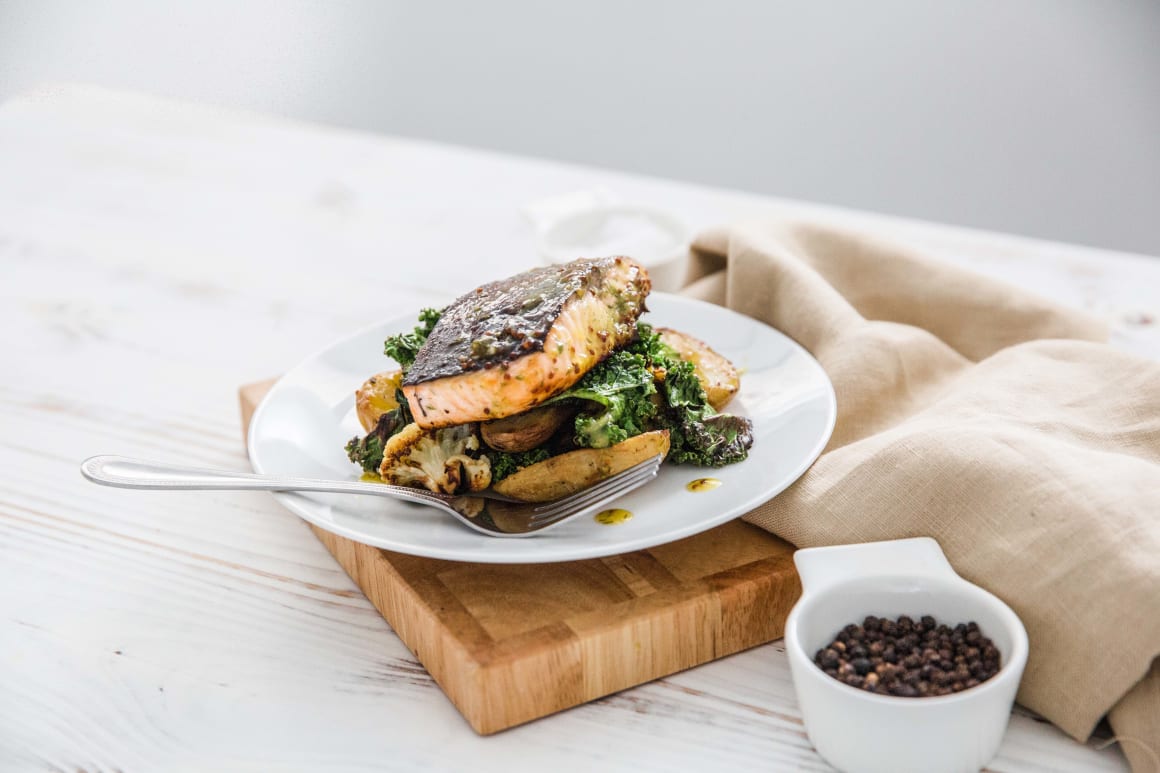 What if you're still in the mood for summery food? This light, delicious recipe is super simple; if you prepare the couscous ingredients beforehand, you can leave it to cook while you concentrate on getting your salmon fillets cooked perfectly.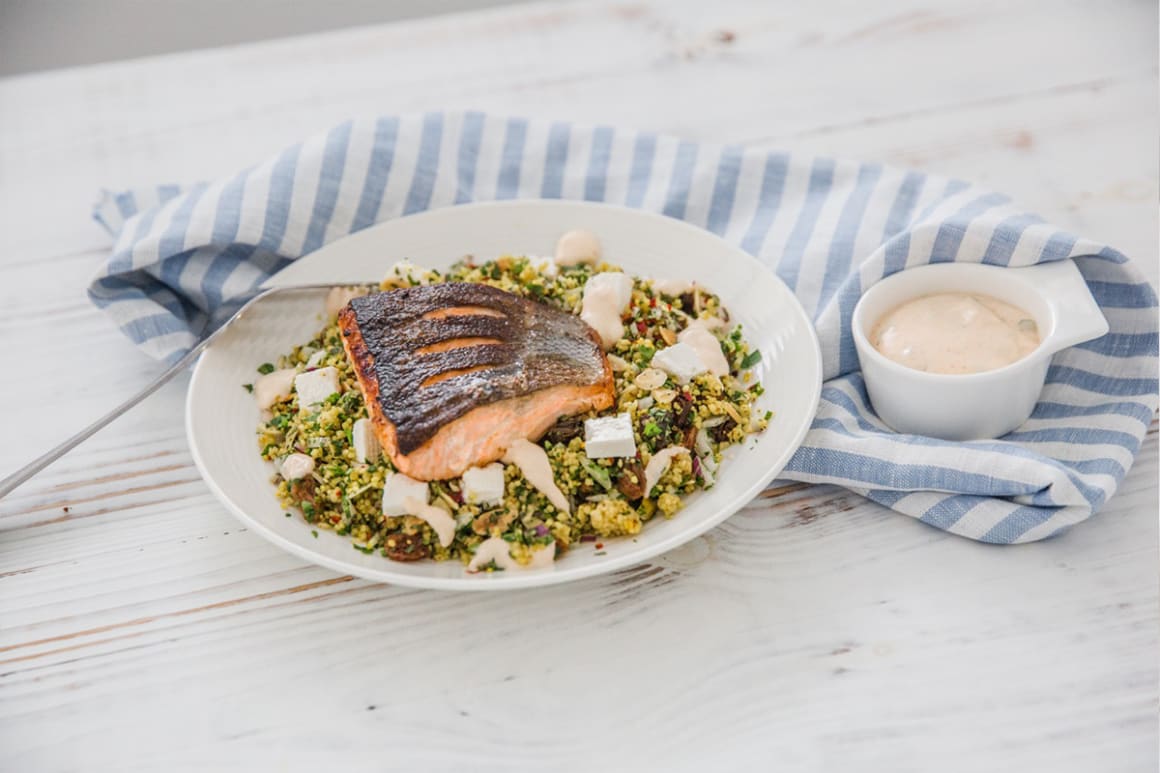 This dish takes a bit more preparation, but it's simple to cook and the reward is huge - deliciously infused salmon served over delicately fragranced vegetables. You can also add coconut milk to the rice to really emphasise the Thai inspiration for this dish.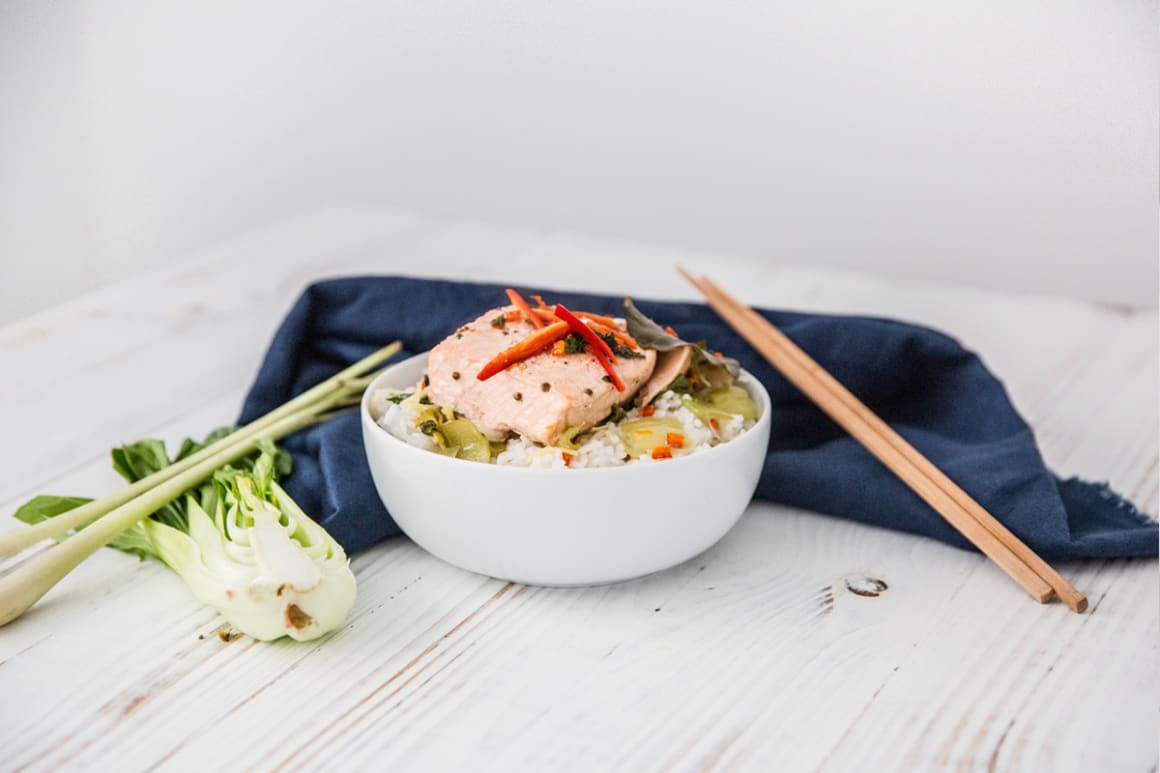 Questions about salmon?
Health benefits of Salmon / Why is salmon good for you?
Salmon is a superfood! DHA; the omega-3 fatty acid that is essential for brain development, is stored in salmon's fat and a fillet can contain as much as 2,380 mg per 100 grams! It is also rich in Vitamin A and D, and a range of minerals including calcium.
Can salmon be cooked from frozen?
As always, fresh is best but If you're in a rush, salmon can be cooked from frozen without thawing it first. Allow about five minutes per ounce of salmon (not including getting the oven up to temperature) and cook under foil to retain moisture. When it's done, you should be able to flake the flesh easily with a fork. Leave it to rest for five minutes and enjoy!
Can salmon be reheated?
Salmon can be safely reheated – if it was cooked through properly the first time, and it is evenly reheated the second time. Quick tip: covering the fish with foil is a good way to make sure that the exterior doesn't dry out before the middle reaches the correct temperature.
Can salmon be fried?
Yes, salmon can be fried! Start skin-side down, and (depending on the size of your fillet) turn after 2-3 minutes, and cook for a further 1-2 minutes until the flesh can be flaked easily with a fork. Check out our video on getting the perfect crispy skin here!
When is salmon in season?
Our salmon is sustainably farmed in the Shetland Islands, so we're able to offer superior quality salmon all year round.
Where can I buy salmon?
You can buy sustainable, high welfare salmon from Fish for Thought of course! Our whole fish and perfect portions are sourced from independently audited farms lying in the cool, clean water off the Shetland Islands, which you can read more about here.
We only supply salmon certified as a Freedom Food Accredited by the RSPCA, so you can be confident in the superior quality high welfare.
Shop Salmon here.