Why not kick off your Christmas feast with a delicious seafood starter? It's important not to overindulge before the main event, but you still want your loved ones to savour the delights and overall experience of their festive meal.
Considering that the oven is likely occupied by the turkey, we have some fuss-free cooking options for you to savour as starters.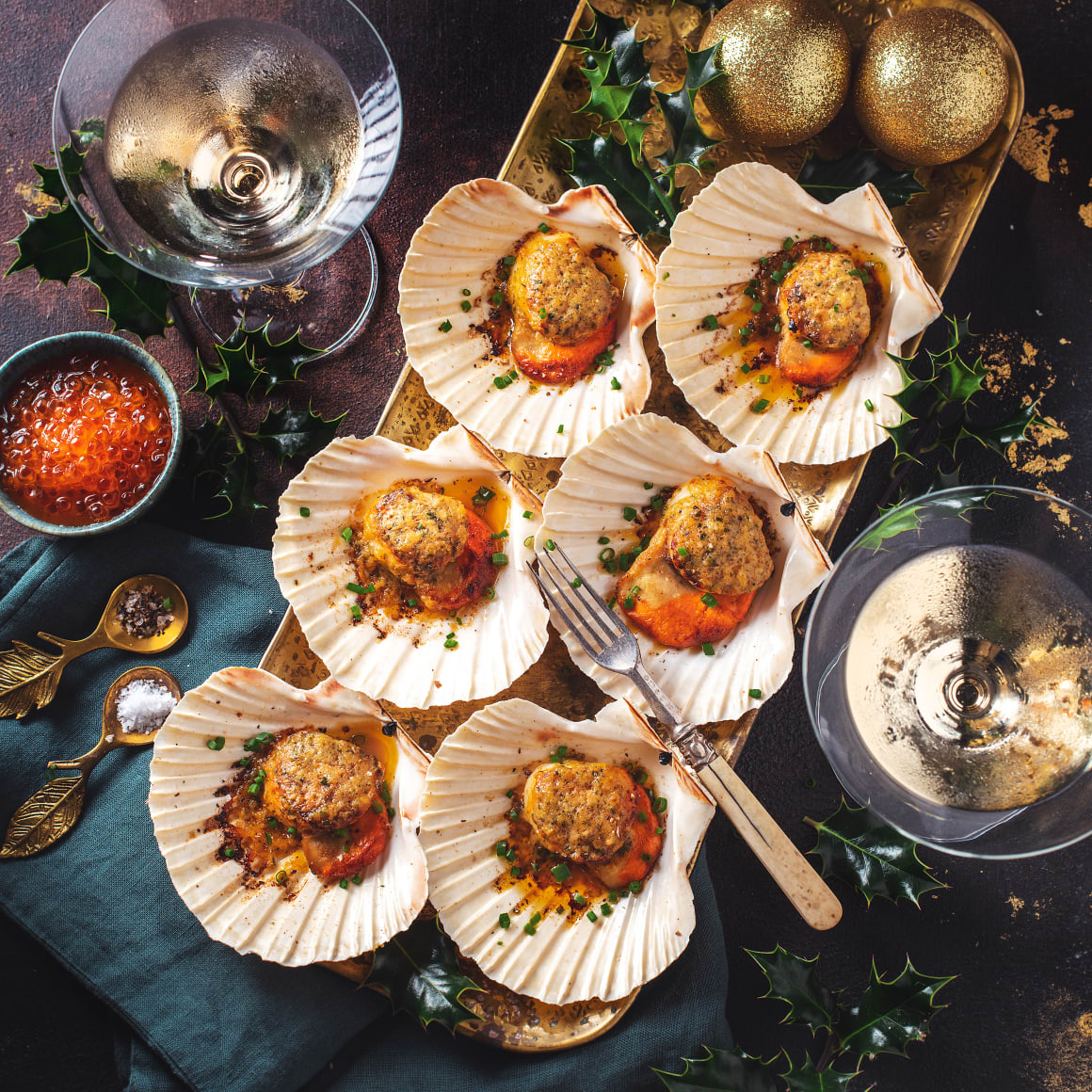 Hand-dived Scallops with Thermidor Butter
Our first starter recommendation is a fusion of our chef's magnificently crafted Thermidor Sauce and velvety Cornish Butter, expertly combined with succulent, freshly-caught scallops. This extraordinary combination promises to grace your taste buds with a symphony of flavours, making it a truly remarkable festive gift for your palate.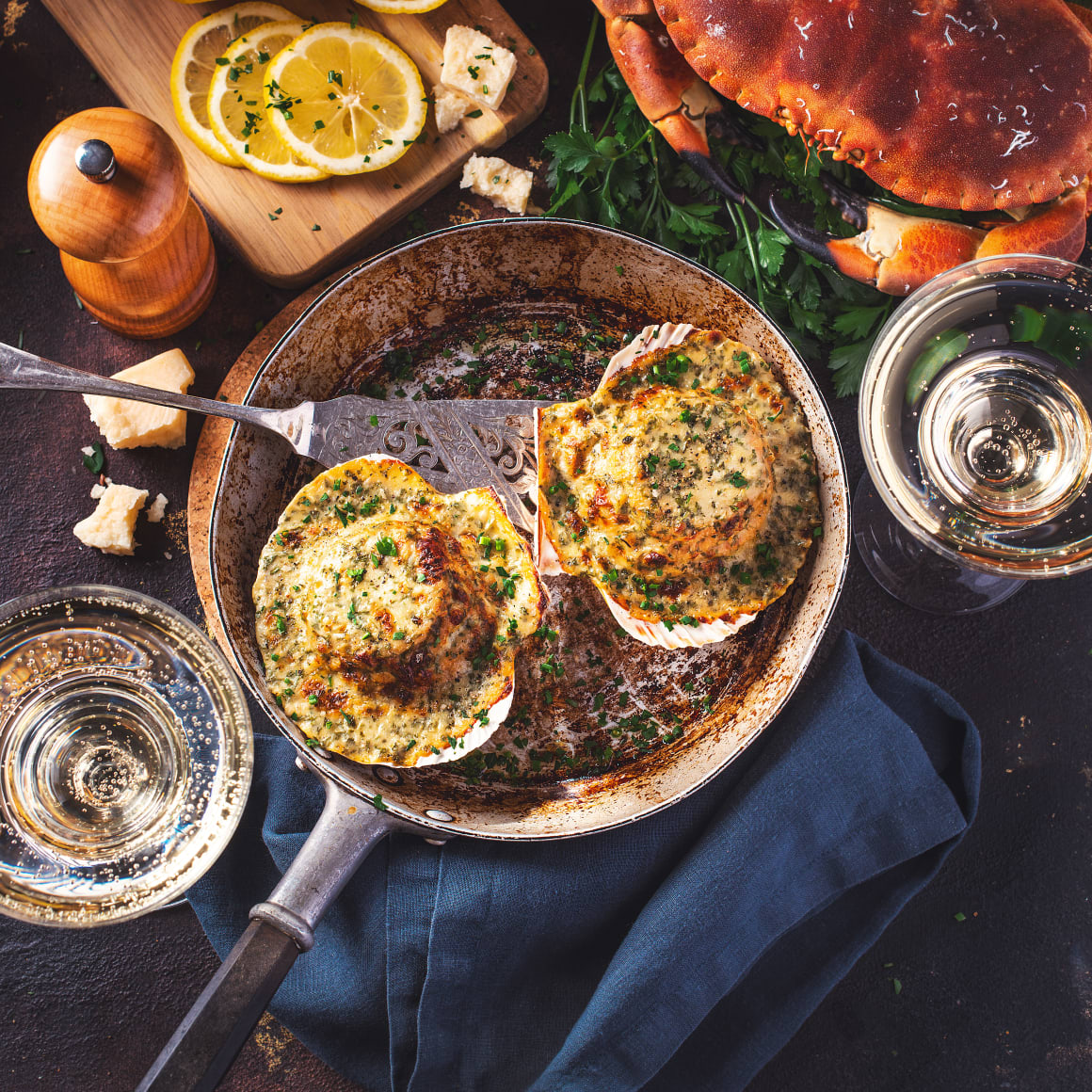 Twice Baked Crab Soufflé
Indulge in an outstanding theatrical experience during a delightful gathering with loved ones. This exquisite Christmas starter, featuring hand-selected Cornish white and brown crab meat in a soufflé made with a delectable crab bisque Bechamel base. Enhanced with refreshing hints of lemon zest and chives, simply incorporate the Thermidor sauce and witness them beautifully rise to the occasion within just 25 minutes, adding an element of excitement to your meal.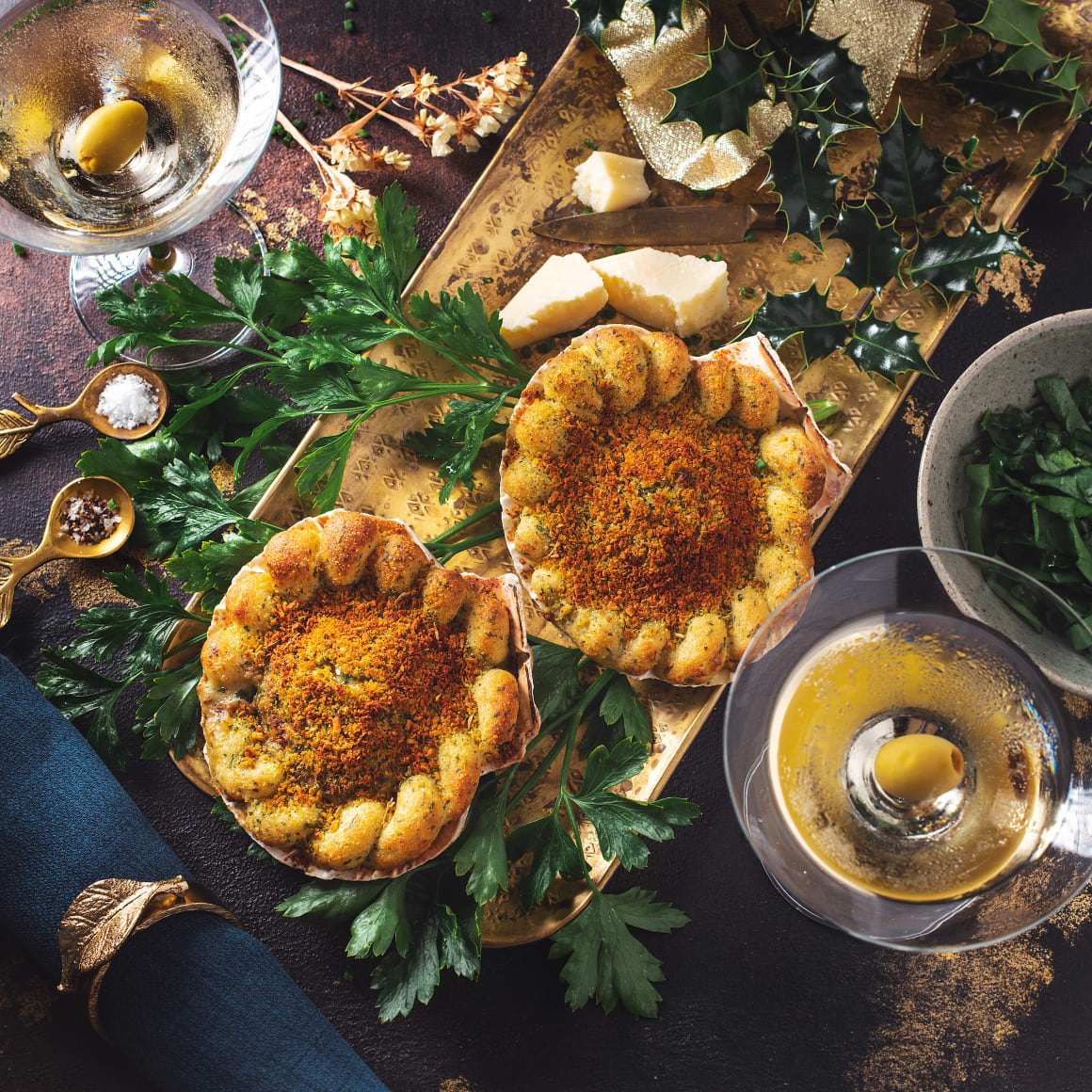 Scallops Rockefeller
Inspired by the opulence of the original hot oyster dish named after the wealthiest American of its era, our revamped version offers a delightful twist. Instead of oysters, we introduce tender, juicy dive-caught scallops. Bathed in a creamy white wine veloute sauce infused with the zing of English mustard and the richness of Parmesan cheese. A final touch of vibrant chopped spinach and parsley adds a burst of freshness. To complete the dish, we serve it alongside a bed of creamy parsley mash and crown it with a delectable parsley parmesan crumb.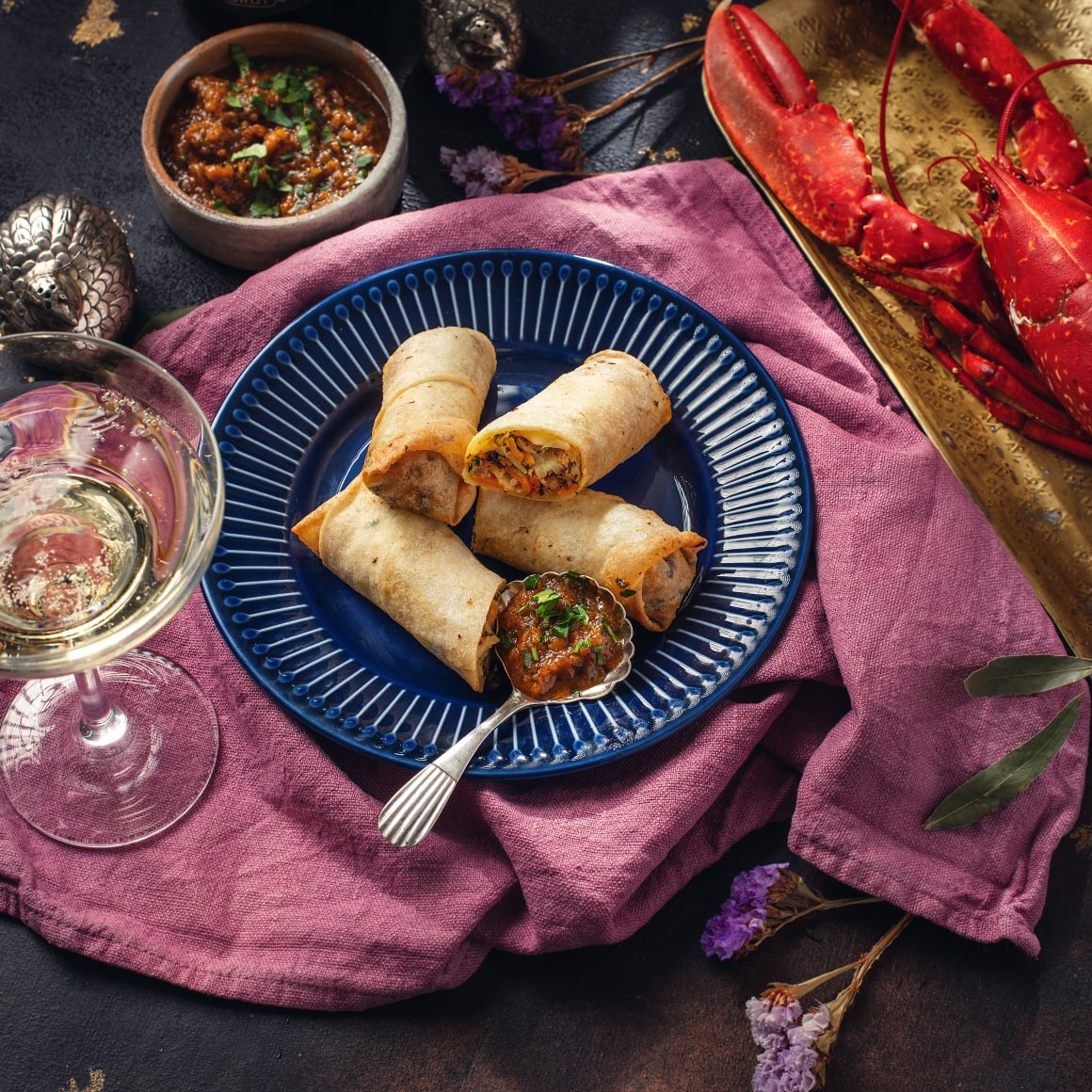 Lobster Spring Rolls
Fancy a little crisp and savoury treat at the celebratory table? Indulge in these perfectly formed mini spring rolls. Loaded with our famous Cornish lobster, a burst of flavour from bean sprouts, ginger, coriander, garlic, and chilli. One taste and you'll be craving seconds.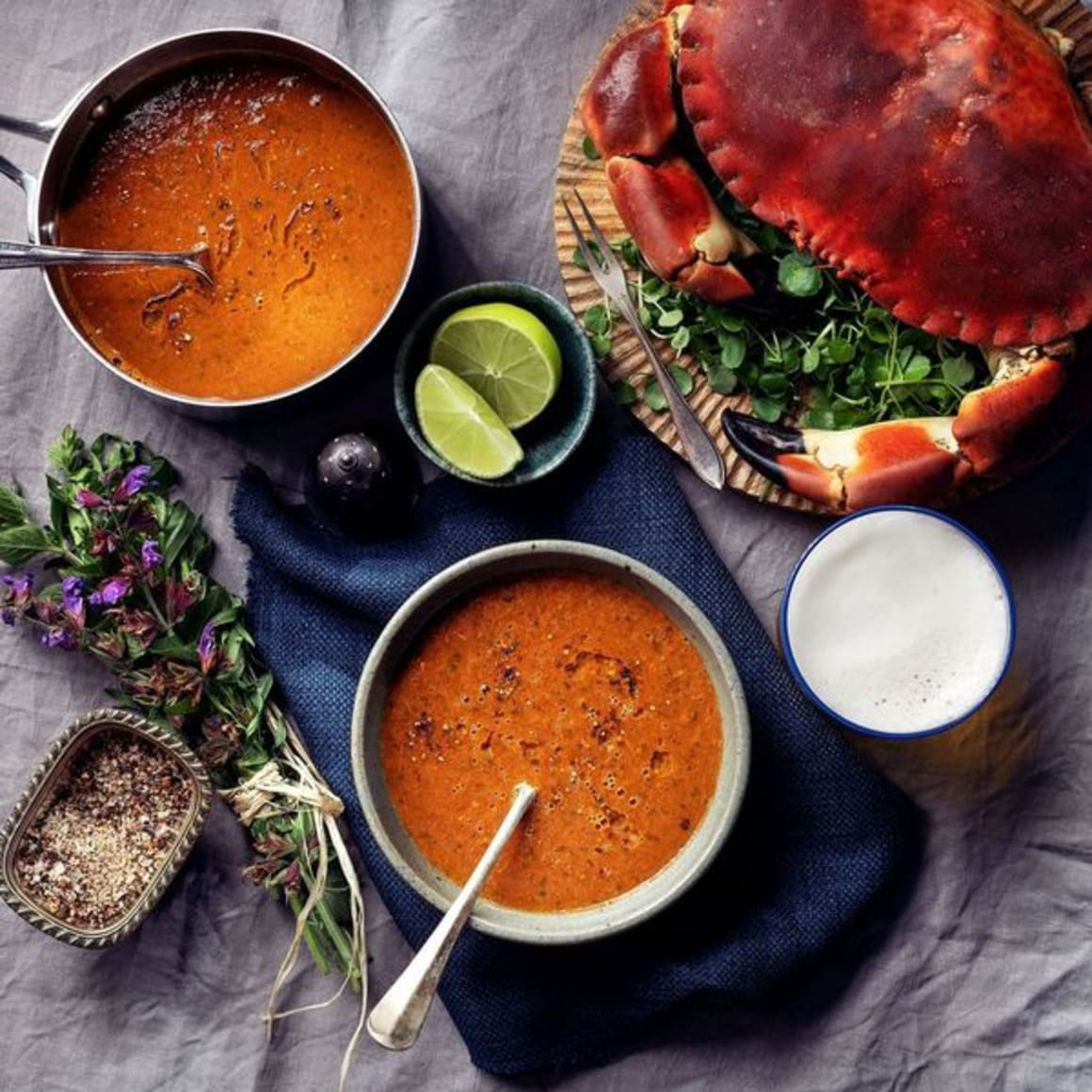 Crab and Roasted Tomato Soup
Why not give our irresistible crab and roasted tomato soup a try? It possesses just the right amount of uniqueness to be served at your Christmas table or any elegant dinner party. Bursting with flavour and liveliness, this soup provides a colourful and delightful beginning to any exceptional meal. It is enriched with delectable, sustainably sourced Cornish crab meat, combined with a luxuriously smooth tomato base that enhances the sweetness of the crab, complemented by a subtle hint of heat.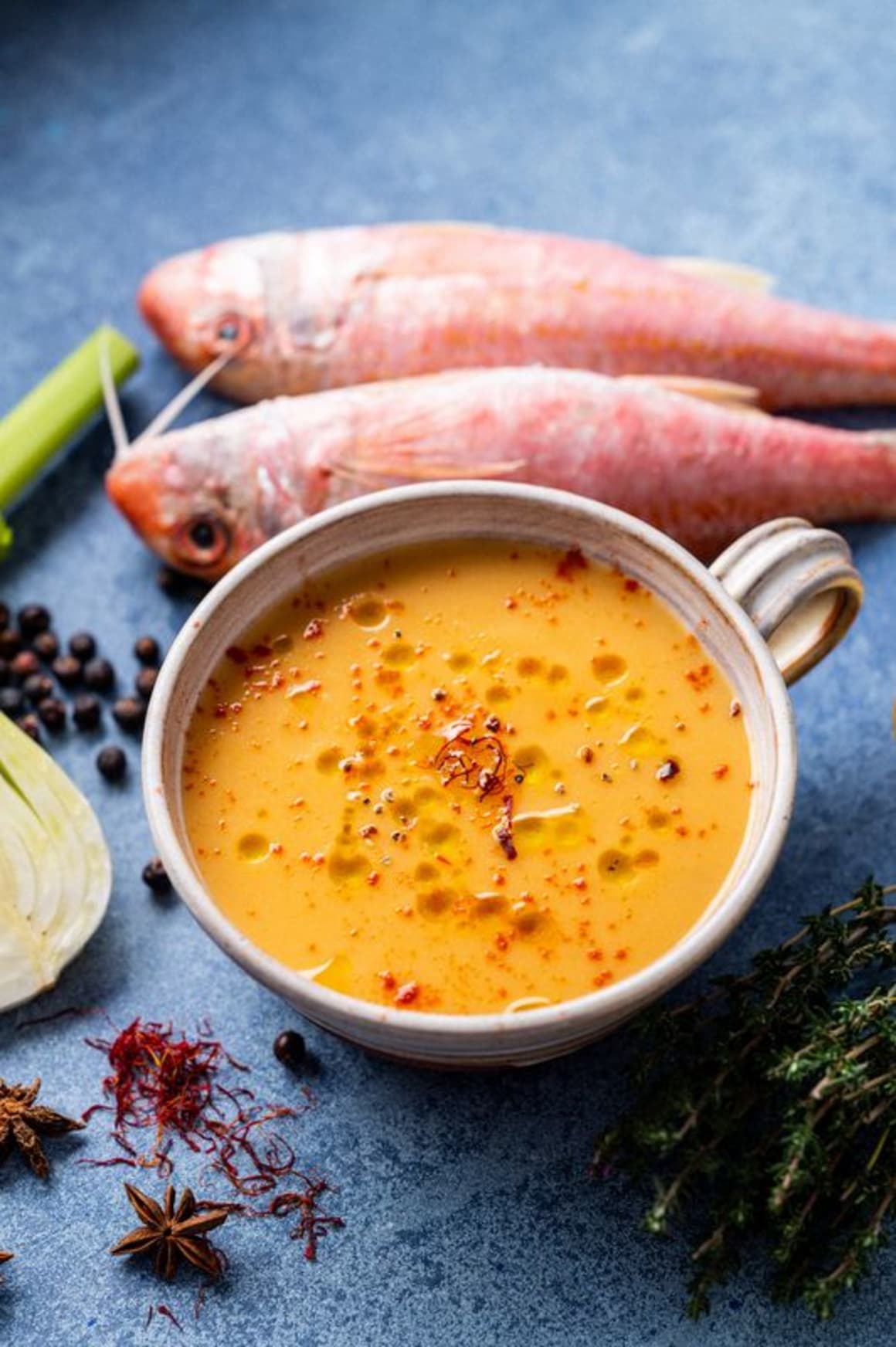 Red Mullet Soup
Featuring a delightful local fish as the star ingredient in a classic recipe, we present a truly special dish made with Red Mullet and sustainably sourced Cornish white fish. The exquisite fish is marinated overnight with a wonderful blend of star anise, juniper, fennel, thyme, garlic, and saffron, then lovingly simmered in a base of tomato and fish stock, lightly thickened with potatoes. Prepare to indulge in a vibrant and nourishing Christmas starter that will warm both your heart and soul.
Discover all of the above recommendations within our Christmas Collection, granting you extra moments to cherish with your loved ones while effortlessly presenting a delectable and remarkable Christmas feast.